You are here
Assessing Surat's experimental cap-and-trade program
Surat's pilot cap-and-trade program hopes to accelerate reduction of industrial pollution by providing economic incentives. Although a first in India, cap-and-trade program is a tried and tested process in parts of the world like China, EU and California. It solely targets particulate matter (PM) emissions (comprising of PM 2.5 and P.M 10) from textile industries. The article examines the potential successes and limitations of Surat's cap-and-trade program. It also includes inputs from policy architects about the features of the pilot program and whether it can effectively reduce PM emissions.
Launching India's first cap-and-trade program
On World Environment Day this year Gujarat Pollution Control Board (GPCB) in collaboration with Energy Policy Institute of Chicago (EPIC), Evidence for Policy Design (EPoD), the Economic Center at Yale University and the Abdul Latif Jameel Poverty Action Lab (J-PAL) designed and launched India's first cap-and-trade program.  The pilot program which is set in Surat is designed to reduce PM2.5 and PM10. The intention of the cap-and-trade program goes against the grain in a country where command-and-control approaches like the Air Act (1981) and NCAP (2019) have dominated so far to lukewarm success. To ensure the successful implementation of the program GCPB with support from EPIC and EPoD set up Continuous Emissions Monitoring Systems (CEMS) in 350 factories to get minute by minute readings of PM2.5 and PM10.  
Features of pilot cap-and-trade program
The first phase of Surat's pilot program includes 160 industrial plants eventually building up to 350 all of which have installed CEMS equipment. Initially emissions of both PM2.5 and PM10 will be capped at 150µg/m3 eventually declining to ensure reduction in PM emissions. Dr. Anant Sudarshan, Executive Director (South Asia) at EPIC states, "At this stage the cap has been set after considering how much pollution the cluster of plants would release in aggregate over the whole month if they were polluting at the regulatory limit allowed by CPCB norms. Because factories are currently often exceeding CPCB norms, even achieving this modest goal would represent a significant reduction in emissions."
Under cap-and-trade, industries that are part of the pilot are mandated to comply i.e. only emit within the cap. The program will also provide a platform to trade excess credits amongst industries making these the two salient features of the program.  The compliance period observed in this program is one month. Hence, after every one month the data is reviewed to make sure industries have complied with the stated cap.
The economics of this market-based approach
The state government will freely allocate a blanket number of the permits which will allow industries to emit up to 150µg/m3. Since cap-and-trade is a market based approach industries can buy and sell permits based on their requirement to fulfill their compliance obligation. Smaller factories that have an over-allocation of permits can sell to bigger players that need more permits to meet their compliance obligation. Trading permits allows for optimal allocation resulting in cost effective method for PM emissions reduction.
A high portion of industries can qualify for the program
Surat has a registered 2772 factories out of which almost 57% are into textile manufacturing (See Fig. 1). This emissions trading has the potential to cover more than half the industries which could make for significant reductions in emissions. The textile industry is a high polluting sector.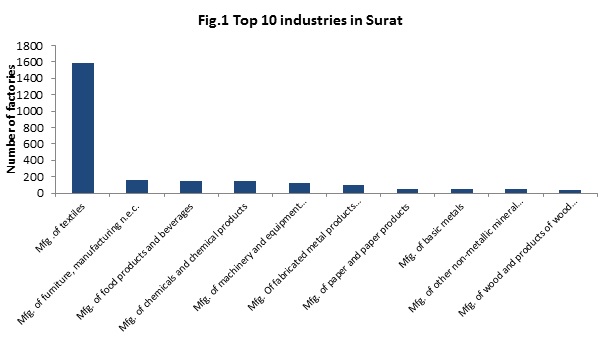 (Source: Gov. of Gujarat)
Aside from the vast amount of liquid effluents that is a by-product of manufacturing textiles, air pollution from diesel generators, boilers and thermo-pack release particulate matter amongst other pollutants like SOx and NOx. Devoid of strict implementation of air pollution policies so far, historic PM emissions suggest that Surat's mean annual PM10 emissions are more than 3 times higher than Central Pollution Control Board (CPCB) guidelines and almost 5 times higher than WHO's recommended level of 20µg/m3. However, according to GCPB data PM2.5 emissions are only slightly below CPCB's recommended 40µg/m3 (See Fig.2&3).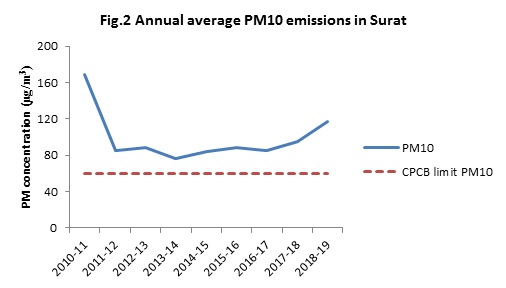 (Source: GCPB)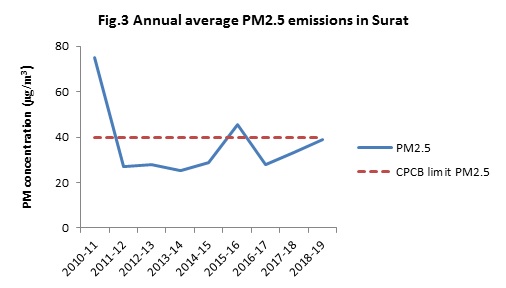 (Source: GCPB)
As a result of being the largest industrial group, textile factors are the highest emitters in the district.  Cap-and-trade has a significant scope as the industry that they have targeted so far is the primary source of pollution.
Cap-and-trade has the potential to revive air pollution intervention
Implementing cap-and-trade can strengthen air pollution policy in a few ways:
Through CEMS it can provide accuracy and regularity to emissions monitoring

Since the textile industry is high polluting source, full participation of all factories in Surat can contribute to significant reduction in PM emissions

Economic incentives earned through permits can enable factories to install APCE if cost of non-compliance is higher.
CEMS equipment has already improved systemic checks as emissions data directly goes to GPCB. This has significantly improved transparency and enforcement. This market based program gives industries the onus to implement pollution reduction measures. For policy architects it will be important to make sure that there is a steep cost for non-compliance that will incentivize industries to emit less.  
Policymakers have to be stringent when setting future cap
Emission Trading Schemes (ETS) in both Europe and California have been critiqued time and again for lack of stringency of the program because of excess permits resulting in industries being able to pollute more. Hence, when setting future cap, policymakers have to be mindful about striking a balance between a strict cap as well as providing industries enough leeway for economic growth.  Pricing of permits is a vital factor to ensuring stable demand as well as the optimal number of permits to safeguard against frequent surplus and shortage. The regulator can set price ceiling and a price floor to ensure that permits are subject to price controls.
The expansion of the Surat's cap-and-trade program certainly depends on the successes and limitations that will arise after the pilot. If successful, the local ETS can be expanded to become a regional program forming official linkages with other jurisdictions. As the urgency to keep our pollution in check increases, cap-and-trade can provide the push needed to reduce PM emissions.