You are here
The dark side of the sun: Clean energy's wasteful impact
India's ambitious renewable energy targets have pushed solar installations to rapidly expand across the country. As India builds on its solar repertoire, the absence of solar waste management guidelines is becoming more evident. Currently solar modules are categorised under e-waste, without any specification on material recovery or environmental impact of solar waste. This article will look at the current policy framework on e-waste as well as policy clarity and interventions needed in order to manage impending PV waste.
The growing solar sector
India's commitment to renewable energy, solar in particular, has been exemplary. The sector has grown from an installed capacity of 10 MW in 2010 to 6000 MW in 2016, and is currently at 30 GW. Touted as a cheaper and more sustainable alternative to coal, the solar energy sector has seen many supportive policy and industry developments over the past few years, making India the cheapest producer of solar energy. The Ministry of New and Renewable Energy (MNRE) has set an ambitious target of 100 GW solar installed capacity by 2022. That is an estimated 70% increase over the current installed capacity in a period of three years. Even if the country fails to achieve this lofty goal, the pursuit alone will have a transformative impact on the energy landscape of the country.
As we get absorbed into this whirlwind of renewable energy development, it is important to remember that solar energy also comes with certain troubling implications. Most solar panels have a warranty of about 20–25 years, beyond which significant non-performance may lead to decommissioning. Depending on the type of panel (crystalline or thin film), impact of the location, and the care taken during maintenance, panels may outlive their warranty period—or demonstrate premature failures.
A problem on the horizon
The clean-energy market-intelligence firm Bridge to India (BTI) estimates that by 2030, India will produce 2,00,000 tonnes of solar-module waste—a number that will rise to 18 million tonnes by 2050. These figures are based on conservative estimates, significantly lower than capacity-addition rates required to achieve the 2022 target. In a country struggling to deal with the existing waste material, we are essentially sitting atop an impending avalanche of a new waste stream.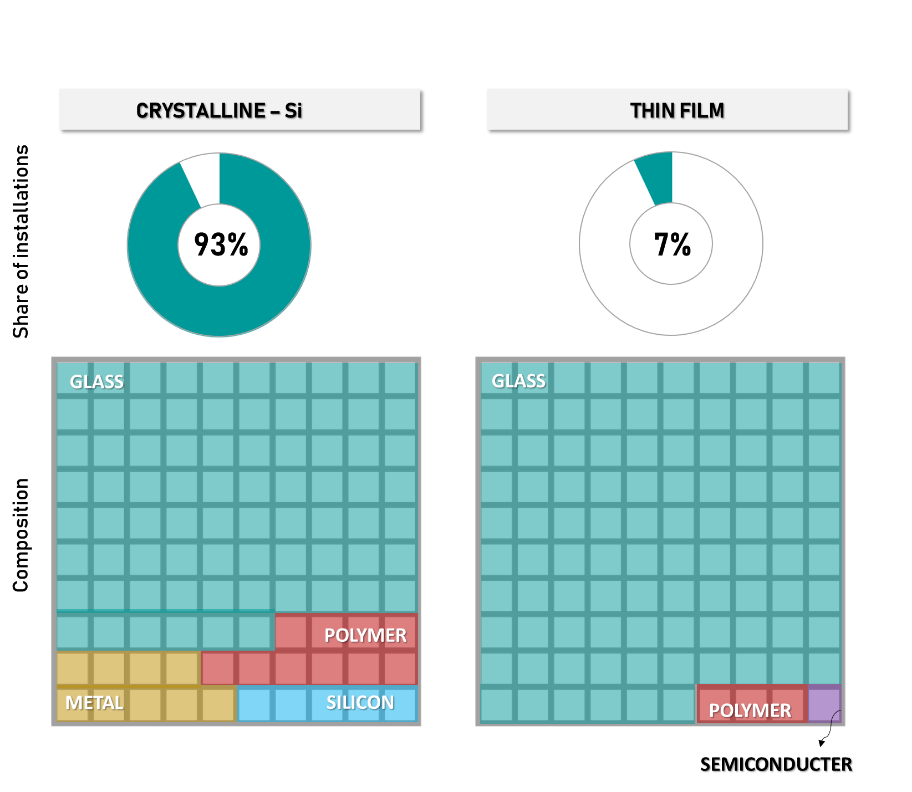 Figure 1: Share and composition of Solar PVs in India (adapted from Bridge to India)
In India, crystalline-Silicon (c-Si) modules are dominant, accounting for around 93% of all installations; thin-film modules, usually Cadmium-Telluride (Cd-Te), account for the remaining 7%. The bulk of each unit is glass, and metals such as aluminium and copper. Photovoltaic (PV) modules also consist of potentially hazardous materials, including but not limited to – cadmium, lead compounds and polymers. Many of these materials can be toxic on contact, or degrade into potentially hazardous substances on exposure to the external environment. It is thus important to ensure that decommissioned solar panels are handled with utmost care, and not indiscriminately dumped where the potential of leaching is high.
Conventional techniques limit yield of reusable material
Over the past few years, concerns have been raised on the lack of preparedness to tackle decommissioned panels. While thin-film panels have seen sporadic developments of dedicated recycling systems, c-Si panels often end up going through conventional recycling processes. At best, these conventional recycling methods use mechanical processes for separating layers of glass, metal, silicon, and polymer, and yield 70%–80% recovery of material. While the main metal fractions (aluminium and copper) are recovered and sent to smelters, the glass fraction is often considered to be of low quality, because of the presence of metals, silicon, and polymers (Forbes, 2018). For purification of the glass and re-use within the industry, a multi-stage process with chemical and thermal treatments is needed, which would require a more advanced recycling setup. The polymer mix (often consisting of plastics, metals, silicon, and glass) is usually landfilled or incinerated—both of which may have long-term impacts on human health and environment.
Specialised PV recycling units are rare globally, although more advanced techniques can yield more reusable material such as silicon, copper, lead, silver, and tin. Advanced or specialised PV recycling uses a mix of mechanical, thermal, and chemical processes to recover most materials including glass, aluminium, copper, silicon, silver, lead, and tin. 8%–10% of the weight, mostly polymers, will still be lost.             
Policy clarity needed to manage long-term PV waste
Currently, there are no solar PV-centric policies or regulations to dictate how decommissioned solar panels need to be handled. As per MNRE's 2016 guidelines for grid-connected solar power plants, decommissioned PVs are to be considered as e-waste. The E-waste Management Rules (2016), on the other hand, do not recognise PVs as such, and rely heavily on Extended Producer Responsibility (EPR). These rules have seen a limited impact, with about 95% of the generated e-waste still ending up in the informal sector, where the material recovery is low and the impact on human health and environment is high. Without adequate pre-emptive action, PV waste may end up in the same growing pile as other waste electrical and electronic equipment (WEEE).
The informal sector takes advantage of presence of PV waste through e-waste procurement. PV waste is a relatively new waste stream that is not yet associated with the local e-waste handlers. However, given that rooftop PV is on the rise, the number developers will also grow significantly. They may turn to their local e-waste handlers for handling panel waste, in the absence of clear guidelines.
Policy imperatives
According to the International Renewable Energy Agency (IRENA), recovered material from defunct solar PVs may amount to USD 15 billion by 2050. However, in the meantime, the cost of recycling poses a problem. As per BTI, processing cost for solar PVs may be as much as USD 250-300/tonne in the US and Europe, with transportation adding 600%—100% to this cost. The value of the recovered materials, on the other hand, is USD 45–130/tonne. Without adequate mandates driving PV recycling, the waste stream itself is not lucrative. We thus need a systems-approach towards managing PV waste, which takes into account both the waste stream, and the need for setting up an enabling ecosystem. With enough time on the horizon, we have an opportunity to—to put it simply, prepare well for the "oncoming storm".
National-level acknowledgement of solar PV waste as a separate waste stream and preparation of associated rules or guidelines will be the first step towards securing a "waste-free" future. State policies, derived from the national-level guidelines, can support the development of a PV recycling system. States with high RE penetration can also establish their recycling system as a regional "hub". Advanced recycling systems can also be integrated into existing recycle parks, which are already equipped with glass and/or metal recycling facilities. With many states still actively encouraging RE projects, a quick and effective intervention can be achieved by mandating an end-of-life management plan from developers for all upcoming and future projects.
The timeline for interventions is important not only from an anticipatory perspective, but also from a design and material-recovery angle. Older PV modules contain significantly higher amounts of precious metals like silver. Thus, the first wave of defunct PV modules are likely to be the most valuable. It will also be important to clearly define the role of key stakeholders in PV recycling. An effective strategy would be to include both producers and developers facilitate innovations in module design, refurbishment, and end-of-life management, through EPR mechanisms. The growing PV-manufacturing sector in India should also be incentivised to minimise the use of materials that will eventually require landfilling.
Too far into the future?
India is still quite young when it comes to using solar energy, with the boom in the sector taking place within the past decade. It is therefore understandable that PV waste management is considered a "problem for the future". However, such thinking is only likely to increase the complexities of the issue. Given the lack of clarity on the classification and recycling of PV waste, installations that witness premature retirement have no place to go. PV recycling is an opportunity for putting the oft-evoked yet rarely seen concept of 'circular economy' in action, provided we take a proactive stance on the issue, rather than our usual reactive one.
Shramana Dey is a Senior Research Analyst with the Center for Study of Science, Technology & Policy. A trained professional in Sustainable Pollution Management, she works on topics related to waste management, sanitation, renewable energy and inclusive development.