You are here
E-waste management in India: New Rules, Old Problems
The article analyses the recently announced E-Waste (Management) Rules, 2016 and examines the improvements and the shortcomings of the new rules
The Digital Revolution which we have been witnessing since past three decades is being seen as a savior by taking our planet to a more sustainable path. The pace with which a very key ingredient of modern civilization- paper has been substituted by new digital tools corroborates this view. However, new technology brings in new problems and unless these problems are tackled, any improvement over the previous technologies will come to naught. E-waste is one such problem of this digital era.
As per a United Nations 2014 report, India is currently generating a massive 1.7 million tones metric tonnes of e-waste annually. The problem is indeed upon us and to tackle that the Ministry of Environment and Forests had notified a set of rules in 2011. To cover the lacunae in these guidelines, government has brought in certain changes and notified the new E-Waste (Management) Rules, 2016, which include inter alia-
1. Four new stakeholders- manufacturers, dealers, refurbishers and producer responsibility organization have been added in the list which earlier included producer, consumer, collection center, dismantler and recycler.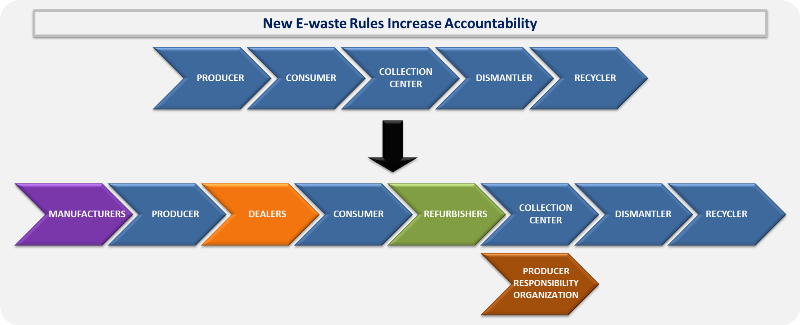 This is a welcome step as
i. It brings in manufacturers who do not sell the products under their brand name under its ambit, which were exempted earlier. Electronic equipment like mobile phone are made up of several components which are manufactured by different companies, so new rules expand the cover of e-waste rules.
ii. Addition of refurbishers or repair shops is a significant step as getting electronic equipment repaired is a very common practice in India.
2. CFL and other mercury containing lamps have also been brought under the purview. With 20% of e-waste coming from these, new rules cover the significant portion which was hitherto uncovered.
3. Collection mechanism based approach has been adopted to include collection center, collection point, take back system etc. for collection of e-waste by Producers under Extended Producer Responsibility (EPR).
These steps are already followed in western countries and their adoption in India is a welcome step.
4. Additional channels like Producer Responsibility Organization (PRO) and Deposit Refund Scheme (DRS) have been brought in for channelization of E-waste.
PRO can be third-party professional e-waste management firms or collectivity of producers, which will obviate the need for establishing individual collection centers by producers thereby reducing costs.
In DRS, a firm can charge extra amount which will be refunded to the consumer on returning the product thus incentivizing channeling back of the end of life products. However, DRS may not work in such a competitive industry as it'll increase the upfront costs making the producers wary of it as consumers may shift to other firms not collecting them.
5. Every producer of electronic products now has to apply for extended producer responsibility (EPR), within the period of 90 days from the date the rules are ratified. Putting a time limit will ensure that e-waste management strategies are put in place swiftly.
6. Provision for Pan India EPR authorization by CPCB has been introduced replacing the state wise EPR authorization.
This will provide single window clearance making the process of getting approval for e-waste management strategy easier and quicker.
7. The rules have assigned a target of 30 percent waste generated under EPR for the first two years, progressively going up to 70 percent in the seventh year of the rule.
Setting up targets will aid the evaluation of the performance of firms and the ministry.
8. States are bound to undertake skill development activities for the workers, involved in e-waste management process.
Linking e-waste management with other government schemes like Skill India will help in synergizing efforts leading to better outcomes.
9. Micro enterprises are exempted from the rules.
A practical step as it'll not be possible to monitor all such enterprises. However, this clause can create a big challenge for proper implementation of the rules reasons for which have been discussed later.
Challenges
The biggest challenge will come from the fact that a large part of our current e-waste management lies in the informal sector. According to the Associated Chambers of Commerce and Industry, only 1.5 per cent of India's total e-waste is recycled by formal recyclers who are approved by state boards. The regulatory structure has so far been unable to tackle this adequately. With micro enterprises given exemption from the e-waste rules, the rules are still silent on the issue.
Regulatory architecture is the next big challenge. Both CPCB and SPCBs are understaffed, underfinanced and lack technical capabiliity. A Comptroller and Auditor General (CAG) report has indicted CPCB for inefficient implementation of the e-waste rules, 2011. According to the report, "CPCB did not conduct assessment of quantity of e-waste being generated/processed in the country and effectively coordinate with state agencies for collection and compliance of such data. The Board also failed to implement framework for reduction of use of hazardous substances in electrical and electronic equipment manufactured and imported in the country." Giving these regulators more responsibility without addressing their human, financial and technical capacity needs would serve little purpose.
Last but not the least, new rules have again failed in making their implementation more consumer-focused. Tools like PRO and DRS can work only when consumers are aware of the hazards of e-waste and are adequately motivated to recycle it through the formal sector.
The article has been contributed by Mr.Arpit Agrawal, a graduate in Biotechnology from IIT Roorkee and a sustainability enthusiast