You are here
"To empower the marginal farmers, there is a portable, higher efficiency micro - cold storage unit"
In conversation with Sustainability Outlook, Mr. Prateek Singhal, shares his thoughts on current market potential, business challenges and policy reforms that can improve potential of micro cold storage in India.
What is the market opportunity for micro cold storages in India?
 By 2025, additional food demand of around 400 Mn tonnes is expected against the current demand of 600 Mn tonnes and this is likely to grow by over 2.5 percent year on-year over the next 10 years.
Horticulture production in India is 300 Mn MT and that of food grains is 283 Mn MT, currently there is loss of 18% of horticulture production leading to a total estimated loss of 44000 INR Crore per annum including grains and horticulture produce. Lack of high quality cold storage facilities and lack of refrigerated transport for food manufacturers and food sellers are said to be two of the biggest contributors to food losses.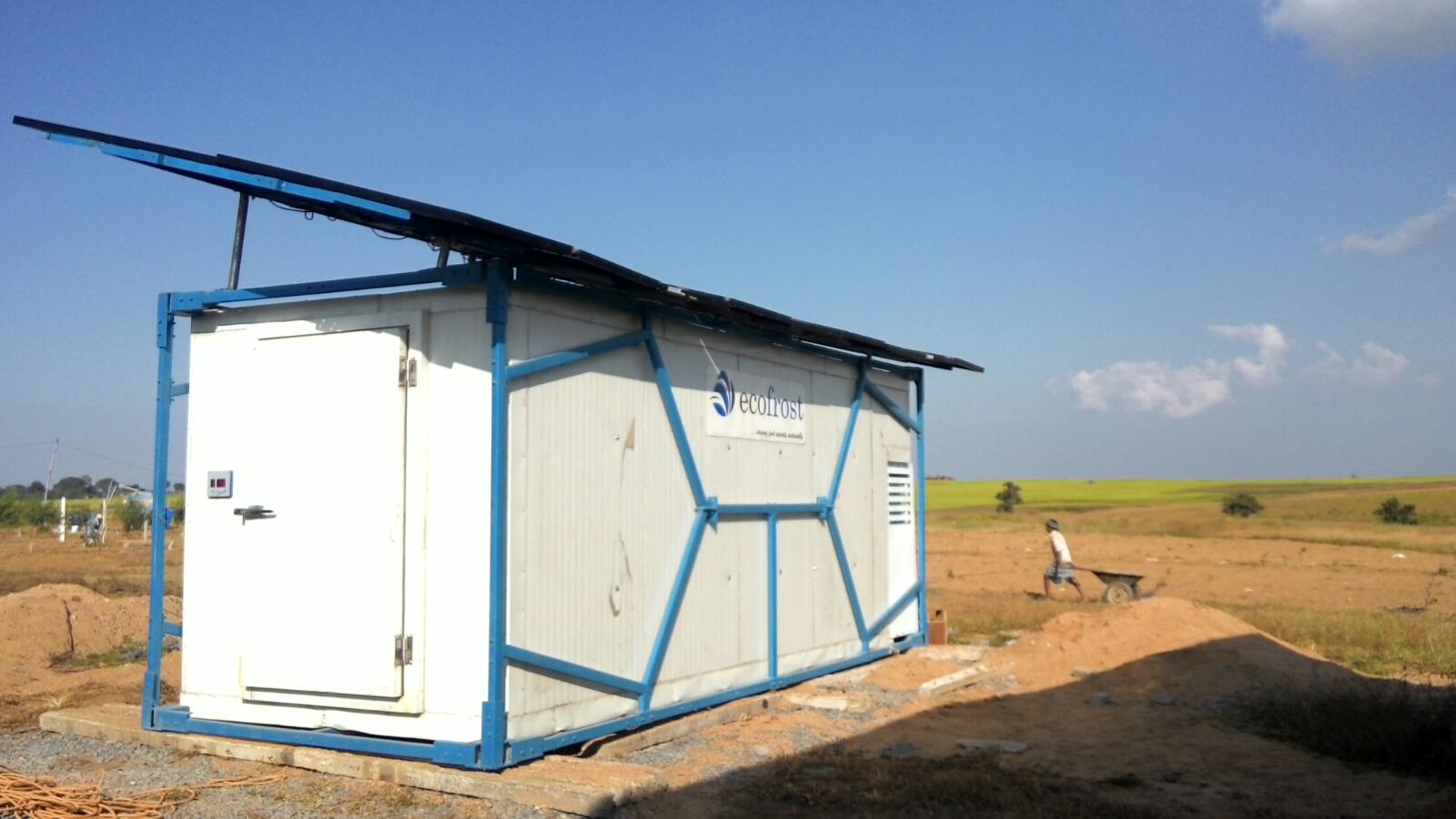 (Source: Ecozen Solutions)
India's cold chain availability for horticulture and floriculture produce is less than 10% if we leave apart the big cold storage infrastructure that is available for potato and few other crops which constitutes close to 80% of the total installed capacity. We have been operating on a model of buffer storage for a long time which serves commodities like potato etc. which have a relatively longer shelf life and storage life. However, majority of the fresh produce like flowers, berries, vegetables that are more perishable do not have access to the cold chain.
Cold chain is important to carry these commodities from the production hot-spots to consumption hot-spots. In absence of which these commodities will perish at the production point or will be sold for very sub-optimal price. They need the cold chain to originate from the farm (farm level pre-cooling) and to continue even during the transport refrigerated trucks) for long distance transportation. There is a major gap in the number of refrigerated trucks (52,829 vehicles x 9MT capacity is required, whereas available is little more than 10,000 vehicles x 9MT) and the on-farm precoolers (6MT x 78000 units is required whereas available is approximately 6MT X 300 units).
Most of current cold storage facilities are accessible only to the big farmers/middlemen who hoard when supplies peak, leading to huge price fluctuations. The bottom of the pyramid (BOP) i.e. the small farmer loses out, as they have to sell their produce at very low prices right after harvest. To empower the marginal farmers, there is a portable, higher efficiency micro - cold storage unit with photovoltaic panels that could be fitted onto a vehicle the size of a U-Haul truck that reduces the cooling load, unlike building-sized cold storage facilities. The product primarily designed for the rural segment serves their needs ideally, as it does not depend on grid electricity.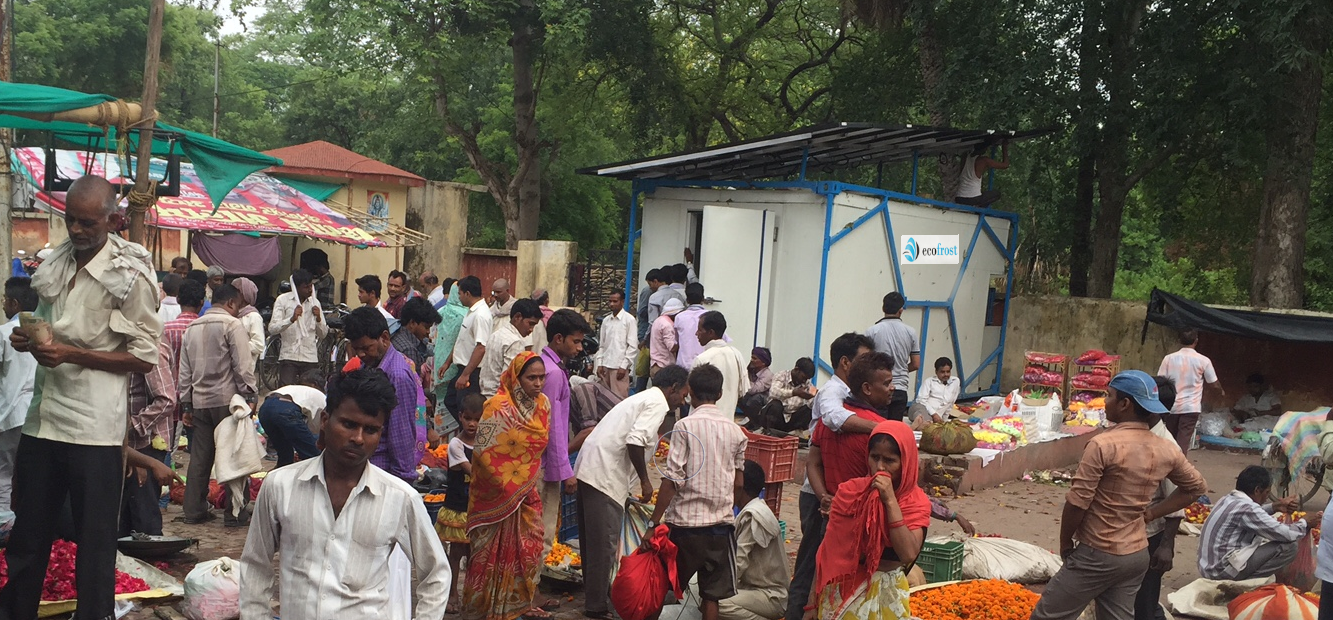 ​(Source: Ecozen Solutions)
The Government is looking to upgrade infrastructure in 22,000 mandis under Operation green. The innovative leasing model demonstrated by Ecozen, detailed below, will help penetrate the market faster.
What are the current and emerging business models in this segment?
Apart from the conventional model of direct sale to the producers and aggregators near the source, we at Ecozen have demonstrated 2 interesting models-
Here, 4-5 different farmers or traders use the product during different times of the year at the time of their respective commodity's harvest time. Seasonal farmers prefer to lease the units as they have utilization of less than 6 months or are not keen on paying upfront.

Today in few places, the cooling facilities are just used for 3-4 months and remain empty during the rest of the year. The advantage that a portable unit offers is that it can be moved from one place to another and serve multiple locations and farmers, thereby delivering a higher utilisation.

Pay-per-use model: A micro cold storage can be instated in a mandi to be used by a group of farmers and traders at nominal charges. These group of farmers use the cold storage and pay only for that duration. We have demonstrated this model in Kanpur flower mandi and Baramati mandi.
What are the financial or business challenges preventing scale?
Affordability of technology: This can be addressed by asset on lease and pay per use models

Challenges around reliability of operation of technology are essentially due to:

Poor power availability: Solar and thermal energy storage (instead of Lithium ion or lead acid batteries) based solutions can help in ensuring reliable operation

Higher chances of failure in remote areas: This can be addressed through predictive diagnostics for service to prevent failures and rectify them proactively

Information asymmetry: Awareness of how the buyers can source from farther market and the growers can sell to farther markets and where to buy from and where to sell can be addressed by a market linkage platform which provides assurance, right infrastructure access and information to both the buyers and sellers
 Is the current support provided by government subsidies sufficient?
The state should actively contribute or put an add on to the existing subsidy prevailing at the centre level to make accessible to marginal farmers. As per our experience, we have seen that the other government subsidy schemes, such as the solar pumping subsidy scheme, have particularly taken off with the small and marginal segment because of the high level of subsidies added to the central subsidy by the state government.
 It would be helpful if Government subsidies for small project cost are not linked with backend subsidy. Since it is linked to a back-end loan, getting it sanctioned at times is difficult even for a farmer earning a decent income due to credit issues.
Currently the subsidies are only linked with Banks; Non Banking Financial Companies and Micro Finance Institutions should also be considered to provide loans which can then get the back ended subsidy.
For small projects, it would be helpful if loan was not a mandate. Another aspect is apart from the models of direct purchase, it would be useful to have support or subsidy for innovative models involving an asset on lease or a pay per use where an entrepreneur can lease the small cold rooms to multiple such farmers.
What could be the levers to provide impetus to the sector?
Reforms in the subsidy disbursement mechanism at the central level

The state should actively contribute or put an add on to the existing subsidy prevailing at the centre level to make accessible to marginal farmers

Subsidy for innovative pay per use and asset on lease models as mentioned above

Market linkages between farmers and buyers leading to transparency in pricing and better value and elimination of intermediaries.

Better consumer awareness towards produce coming through cold chain- that produce through cold chain is fresher

Technological disruption and agronomic advisory services reaching farmers directly

Investment in alternate energy technologies like solar-powered systems, setting up of pack houses and reefer transport, use of existing facilities for multiple crops instead of a single crop
Prateek Singhal  is the co-founder and COO of Ecozen Solutions.  He founded Ecozen Solutions 8 years ago in order to create awareness and provide sustainable solutions to energy management problems. Today, Ecozen solutions provides renewable energy based products to improve poor energy management practices in India and have received international recognition for their innovative solutions.