You are here
PAT Pulse: Asset Optimization to Drive the Next Wave of Energy Efficiency in India
With pressure building up on industries to optimize their efficiency, resources becoming increasingly scarce, competition getting fiercer and technology advancing at a an incredible pace, the Indian manufacturing sector would necessarily need to keep up with global advancements in this sector.  Also systems enabled by Information and Communication Technology (ICT) will additionally improve the visibility on energy consumption and GHG emissions for industries. With the advent of cyber-physical systems which facilitate global networks for businesses incorporating machinery, warehousing systems and production facilities, while continuously focussing on resource productivity and efficiency, a  fourth Industrial Revolution spurred by Smart Manufacturing is inevitable. Internet of Things would act as a key enabler of smart manufacturing - the next big leap influencing energy efficiency. The current IoT based SM solutions (for applications within the factory's fence) focus predominantly on asset optimization. Achieving performance efficiency and cost savings through optimization of Overall Equipment Effectiveness is likely to define the next wave of Industrial Energy Efficiency. In this issue of PAT Pulse, Sustainability Outlook and AEEE have explored the prevalence, drivers, business case and key challenges for IoT based Smart Manufacturing (SM) solutions in Indian industry.
Highlights
Achieving performance efficiency and cost savings through optimization of Overall Equipment Effectiveness will define the next wave of Industrial Energy Efficiency.

The market penetration of IoT based smart manufacturing solutions will increase from current levels of ~5% to 30% by 2020 and this would be driven by reduction in the cost of technologies.

 Increasing awareness about the potential and business case of IoT based smart manufacturing solutions will be crucial to reach the next stage of Industrial energy efficiency. 

Skill building would be required for enhancing the ease of using IoT based smart manufacturing solutions at the factory operators' end and for developing good quality data scientists at the solution providers' end.
Smart Manufacturing: The Next Big Leap Influencing Energy Efficiency
Smart manufacturing solutions enable better process execution and better practices by utilizing intelligent insights that are born out of the data collected from multiple areas within the factory. SM solutions don't look to change the core process of the factory but just look at how the existing capacity and process can be utilized better. This brief is focused primarily on IoT based Smart Manufacturing solutions.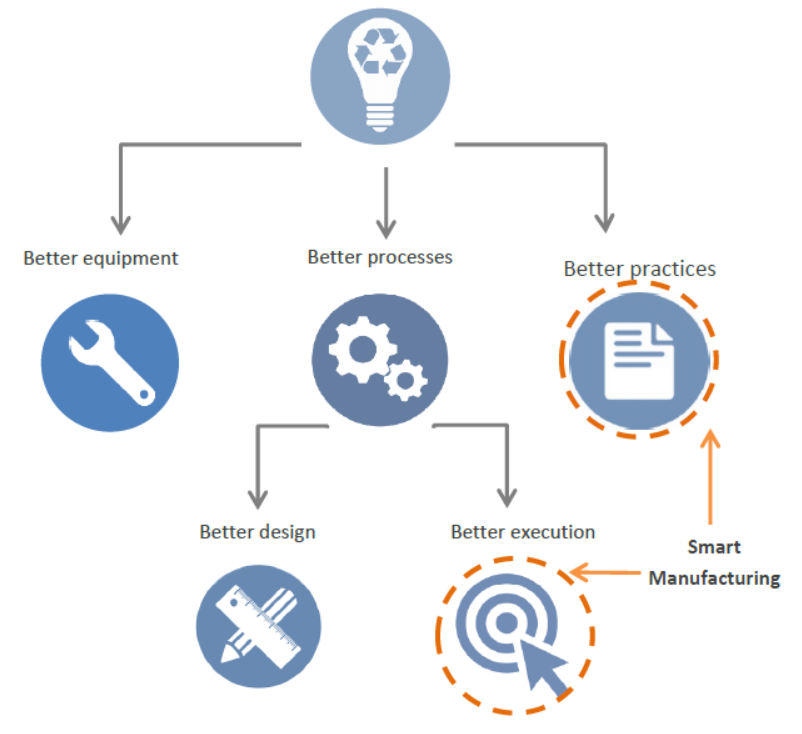 Asset Optimization: An Emerging Area for Smart Manufacturing Solutions
IoT based smart technologies provide insight and actionable information to the end users as also possess capabilities for predicting future conditions based on historical data that is assimilated over a period of time. Essentially these technologies digitize the data that may be readily available at factories and build on it to build intelligence in to the factory's value chain. The IoT based SM solutions for applications within the factory's fence which are coming up in the market today focus predominantly on asset optimization which have the following potential benefits:
 Potential of Improving Overall Equipment Effectiveness (OEE)
 Equipment Utilization and Scheduling Can Instantly Impact Energy Efficiency
 Predictive Maintenance has Direct Economic Benefits
 Forecasting of Product Quality Enables Timely Correction of Flaw

Smart Manufacturing Solutions Currently have Low Penetration in India
The basic solutions that provide monitoring and reporting options have a market penetration of about 15-20%. However, as per market estimates, solutions which provide advanced analytics and predictive modelling currently have a penetration of less than 5% across the industries.
Within PAT sectors iron and steel and power generation have seen the highest amount of interest so far in IoT based smart manufacturing solutions.  Other PAT sectors such as textiles, paper & pulp, fertilizers and cement have also shown some interest and depending on their size have initiated pilots for implementation of IoT based SM solutions.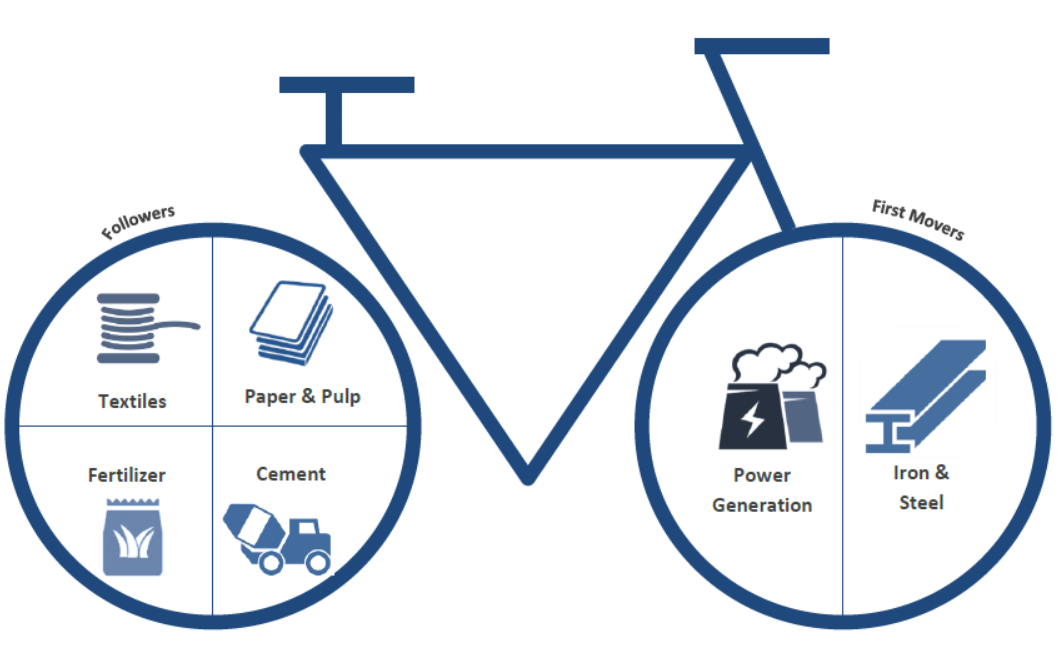 Business Case for Smart Manufacturing: Potentially 10-15% Energy Savings, 12-15% of Productivity Improvements
 Savings in energy to the tune of at least 10-15% could be anticipated

 Energy monitoring and management solutions alone have the potential to reduce energy costs by 4-5%.

 Operations and maintenance expenditure could be reduced by 2-5%.

 Productivity improvements are also estimated to be at a minimum of 12-15% by just basic monitoring of equipment and streamlining of production schedule.
The biggest barrier that currently hampers the uptake of IoT based SM solutions is the lack of awareness about the solutions available in the market, their features and their likely benefits.
To read the complete brief, click here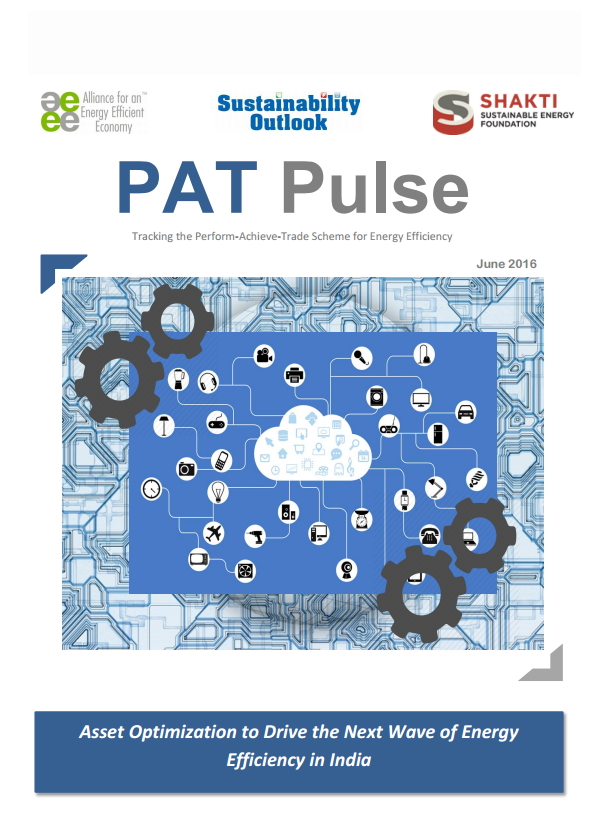 The June issue of PAT Pulse also highlights some of the key solution providers in the IoT based smart manufacturing domain including ABB, Aeris, Altiux, Altizon, Bosch, Briston, Cisco, Eco Axis, Entrib Technologies, ETAmation, Flutura, GE, HCL, IBM, Machine Pulse, SAP, Wipro Eco Energy etc. and presents illustrative use cases of IoT based smart manufacturing solutions.                                     
Policy and market updates
The issue also provides updates on PAT cycle 2 sectors and targets as announced by Bureau of Energy Efficiency (BEE). It also provides a brief snapshot of key news and events in the industrial energy efficiency domain.
To receive the reports, get engaged or to learn more about the on-going work related to Energy Efficiency, please email us at mait@sustainabilityoutlook.in (Market Access & Insights Team at Sustainability Outlook)