You are here
Zero Liquid Discharge: Outlook for Indian Industry
Zero Liquid Discharge (ZLD) guidelines were recently introduced for four industrial sectors in India. These sectors would be required to set up systems which will treat the waste water as well as recover dissolved chemicals so that water can be again used in factory operations. These sectors are; Textile (wet processing), Tanneries, Distilleries and Pulp & Paper (Zero Effluent Discharge mandate)
This Issue from Sustainability Outlook brief provides insights to the following questions;
What is current policy scenario for ZLD in India?
What is the value chain associated with ZLD system?
What are the key drivers and challenges for ZLD in different industry segments? (for this we have focused on 3 segments that have the most number of units- namely Textiles, Paper& Pulp and Pharmaceuticals)
Policy scenario for ZLD in India
Till now the whole ZLD issue in textile was limited to Tirupur and the Bulk drug manufacturers in Andhra Pradesh, but now focus on Zero Liquid Discharge had come to the forefront following the launch of the "Namami Gange" program last year. This is part of the election commitment made by the present Indian government to clean the river Ganga, one of the key rivers flowing through the country.
Our study showed that the regions that are most likely to be affected by Zero Liquid Discharge legislation in the near future would include areas that are facing ground-water scarcity issues as well as those worst affected by industrial water pollution. We had identified 10 states- (Uttar Pradesh, Punjab, Delhi, Gujarat, Rajasthan, Haryana, Madhya Pradesh, Andhra Pradesh, Maharashtra and Jharkhand)
As further details are hammered out, industries can expect to be mandated to better manage their effluent discharge, not only in the Ganga Basin but across the country in the near future.
Value chain associated with ZLD system
Pictorial representation of ZLD value chain
Source: Sustainability Outlook Analysis
Different components of the Zero Liquid Discharge Value Chain are as follows;
Treatment equipment manufaturers
Recycle/recovery equipment manufacuters
Water Supply
Sludge handlers
Toxic waste handling companies
Auxillary euipment and consumables suppliers
Key drivers for uptake of Zero Liquid Discharge in different industrial segments
Water scarcity
Notification from state pollution control board
Resource recovery
Challenges for implementation of Zero Liquid Discharge in different industrial segments
High initial capital expenditure and even higher operating expenditure
Management of highly toxic waste which is the byproduct of treatment process.
Space requirenment.
Impact on cost of final product.
Applicability of ZLD in industries like Pulp & Paper, Pharmaceuticals and Textiles
Sustainability Outlook did analysis which estimated the impact of Zero Liquid Discharge treatment on the cost of final product. Some of the key findings were;
Textile: ZLD mainly impacts a part of the textile value-chain which is focused on dyeing and coloring; increasing their cost by 6-10%
Pharmaceutical: High quality standards are limiting the sector to do only partial ZLD
Pulp & Paper: The industry needs to focus on reducing Specific Water consumption currently and then move to ZLD
To know more read the entire report here.
This brief is an outcome of on-going industry engagement efforts by Sustainability Outlook to capture the outlook of the recent Zero Liquid Discharge mandate for the Indian industry. 
To receive the reports, get engaged or to learn more about the on-going work related to Corporate Sustainability, please email us at mait@sustainabilityoutlook.in (Market Access & Insights Team at Sustainability Outlook)
In continuation  of our work in the domain of Zero Liquid Discharge, Sustainability Outlook has recently released "March to Sustainability: Zero Liquid Discharge", a primer for Zero Liquid Discharge in India, which describes the current scenario, illustrates the outlook for 2020 and quantifies the market opportunity with a focus on three highly polluting and water intensive industries, i.e. Textile (wet processing), Distillery (molasses based) and Pulp & Paper (large wood based).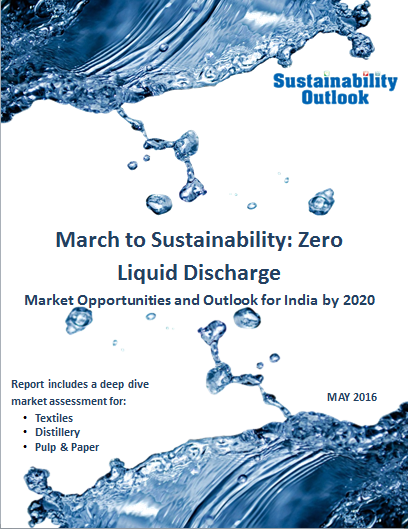 Report Price - USD 495.00