You are here
Strategic Alliance for Water Stewardship: A Collaborative Approach to Advance Water Security
India is facing a serious and persistent water resource crisis owing to the growing imbalance of demand and supply, poor water quality, and climate-induced water scarcity. A 2030 Water Resources Group (WRG) report predicted that by 2030, the gap between demand and availability of water in India will be 50% with the demand touching approx. 1500 billion cubic metre (BCM) and availability approx. 750 BCM. This growing demand supply imbalance will have significant implications from the perspective of water sharing across industrial, domestic and agriculture sector. This article will discuss the impact of water shortage on businesses/industries and how the AWS Standard is being leveraged by businesses to implement water security measures at the catchment level.
Climate change poses a direct threat to urban water supply
The stress on scarce water supplies is created by climate variability and change, including irregular and altered rainfall patterns.  According to the Composite Water Management Index (CWMI) report released by the Niti Aayog in 2018, 21 major cities are racing to reach zero groundwater levels by 2020, affecting around 100 million people.  Indian climate scenarios for 2050 project's an increase in the average temperature by 2 to 4°C with a decrease in the number of rainy days by more than 15 days in western and central India. By 2050, the impact of climate change is expected to result in less water flow in most of the river basins (India's National Communication to the UNFCCC) putting the already strained water resources of the country under severe stress.
Water as a business risk
India's growing water challenges have made businesses vulnerable to physical, regulatory, social and reputational risks.  Water is the materiality issues for every business due to its impact on their value chain; but the lack of in-depth understanding and quantification of water risks enhances the vulnerabilities. Therefore, there exists a need for better understanding of the shared risks across the river basin, sub-basin, lake or the groundwater system in which business facilities are located. However, in most scenarios, the scale of risks involved exceeds any single company's capability for action; thus, necessitating a joint approach.
Industrial consumption currently accounts for only about 8% of freshwater consumption in the country. Water being a shared resource, can pose substantial risk to companies' operations and profitability. It is a shared risk between multiple and often competing water users such as households, agriculture, industry, and the environment. The projected increase in consumption of water by industry from 42 km3 per year in 2000 to 161 km3 per year by 2050 will substantially increase risks to both industry as well as river basins (WWF). Even though these risks and challenges are known, their scales are way beyond the scope of action by a single stakeholder. The non-existence of a pre-competitive environment acts as an impediment to catchment-level collaborative action. Companies are facing challenges in collection of catchment-level data, collaborating with other water users in the catchment for multi-stakeholder engagements as well as in initiating dialogue with policy makers
Water Stewardship
Stewardship is about taking care of something that we do not own. Stewardship approaches focus on the management of common pool resources like forests, fisheries or, in this case, freshwater. Water stewardship is based on the principle of there being a collective need for sustainable water-resources. For private sector, water stewardship is about understanding their water use and impacts, and to work collaboratively and transparently for sustainable water management within a catchment context through stakeholder inclusive process.
The Alliance for Water Stewardship Standard
Alliance for Water Stewardship (AWS) is a global membership collaboration comprising businesses, NGOs and the public sector. AWS members contribute to the sustainability of local water-resources through their adoption and promotion of a universal framework for the sustainable use of water – the International Water Stewardship Standard, or AWS Standard – that drives, recognizes and rewards good water stewardship performance.
AWS defined water stewardship as the use of water that is socially and culturally equitable, environmentally sustainable and economically beneficial, achieved through a stakeholder-inclusive process that includes both site- and catchment-based actions. AWS works on three fundamental building blocks of water stewardship:
The AWS Standard is globally recognised and respected as defining best practice in collaborative and catchment-focused water use. The Standard is being widely used by major companies to help them address water risks and seize opportunities to build a sustainable future. Independent third-party verification and multi-stakeholder processes ensure that the Standard provides the 'safe place' to strengthen relationships and build trust between competing water users. Figure 1 below illustrate the five steps of AWS Standard V2.0 and the five outputs of the implementation of AWS Standard.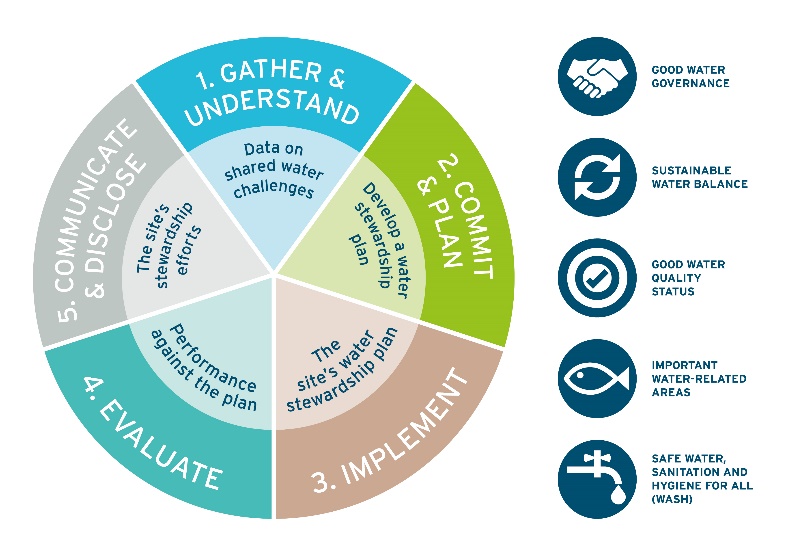 Figure 1 AWS Standard V2.0
Water Stewardship Network is a multi-stakeholder platform to engage different interests and advance water stewardship. The India Water Stewardship Network (IWSN) comprises of business, governments and civil society organisations. It is in place to enable a direct link between India and the global water stewardship best practices.
AWS Membership connects progressive organisations from all sectors in advancing water stewardship and enables pre-competitive collaborations to flourish at different levels (technical, conceptual, practical). The members are seeking a more structured way to engage water stewardship in the country.
The AWS Standard is already being implemented by number of private sector companies in India and around the globe. At present, there are around 13 sites in India and 120+ sites worldwide where it is being implemented. Out of these, 56 sites have already been certified and 74 sites have registered for certification.   Recently ITC PSPD Kovai site received the first certification in India. The AWS Platinum level certification is only awarded to those sites that go beyond the site's own water use to support communities, vulnerable groups and local agencies ensuring a sustainable future. ITC Kovai is only the second site worldwide to achieve AWS Platinum certification.
Strategic Alliance Partnership Project for Water Stewardship
The GIZ (Deutsche Gesellschaft für Internationale Zusammenarbeit GmbH), AWS, WWF-India and private sector companies (Diageo India, ITC Limited and Mars GmbH) are collaborating for a Strategic Alliance project to advance water stewardship in India through actions and innovations at community, catchment, state and national levels.
The strategic alliance project is being implemented at diverse locations in India i.e. Rajasthan, Maharashtra, Uttar Pradesh, Karnataka and Tamil Nadu. In each case there is a dual focus on optimization of water use at a site level and collaborative engagement on shared water challenges at the catchment level.
The AWS Standard provides the common framework around which the companies are implementing measures in catchment context to advance water security. This project is designed to support these implementation for more deepening actions at catchment level for water security and develop best practice case studies out of the implementation to bring more private players under India Water Stewardship Network (IWSN) for scale-up and large scale impacts to advance water securities in the country.
Each of the private sector partners is implementing the AWS Standard at priority sites, providing an unparalleled opportunity to gain experience in water stewardship implementation in diverse hydrological, economic, and socio-political contexts across India towards achieving best practices.
The project will leverage the learnings from the practical implementation of the AWS Standard to strengthen the capacity of the India Water Stewardship Network to effectively lead the water stewardship agenda in India. It also aims to push corporate commitment to implement the Standard and will receive public funding from BMZ to institutionalise the IWSN as a platform to share knowledge, learnings, best practices and advance water security in India. Project specific activities will start from January 2020 and is a 3 year project.
Looking Forward
The project seeks to institutionalise India Water Stewardship Network (IWSN) comprising of businesses, civil society and public-sector organisations. Current members of IWSN includes – AWS, WWF-India, Centre for Responsible Business (CRB), WaterAid India, CDP, Better Cotton Initiative (BCI), Centre for International Projects Trust (CIPT), the Energy & Resources Institute (TERI), ITC Limited, Aditya Birla Group, Olam, GSK, Hindustan Unilever Limited, TTC, 2030 Water Resources Group, IWMI, Royal Netherlands Embassy etc.
The Strategic Alliance Project will enable the IWSN to evolve from its current informal structure to a powerful agent for change in India, able to convene, support and inspire stakeholders to address the severity of India's water challenges by building partnerships, initiate policy dialogues, and support the regime of water stewardship in India. The project would strengthen IWSN by bringing more members under the Network, foster the sharing of knowledge and learnings from implementation of AWS Standard amongst the corporates and create a network of all major water users, civil society organisations and bring policy advocacy to upscale and replicate water stewardship in India. (Figure 2)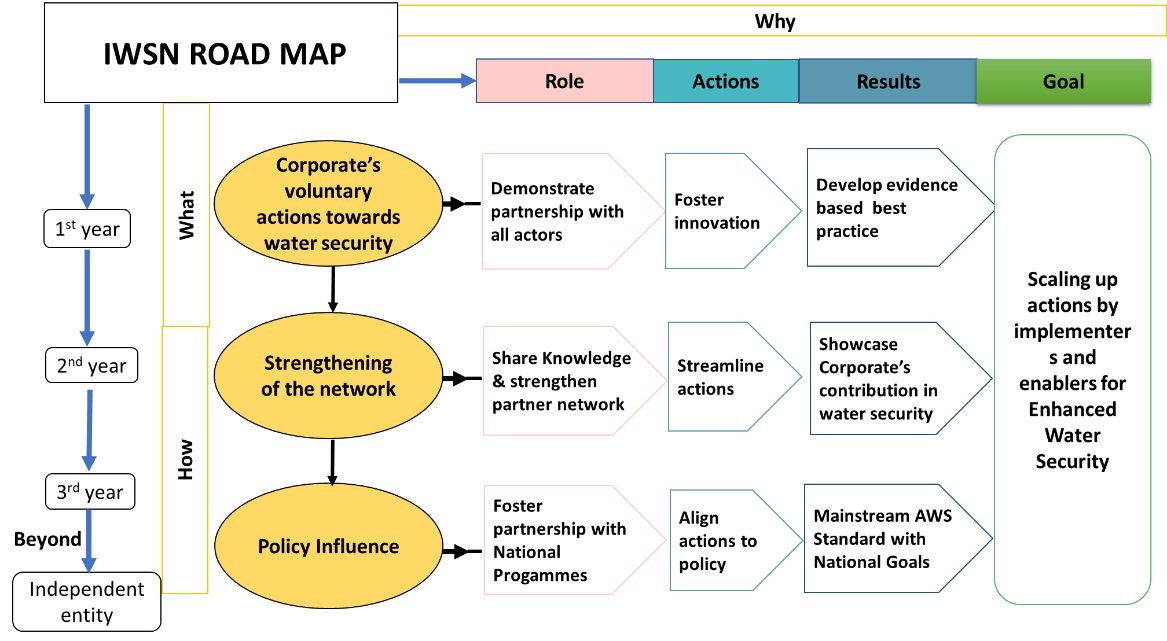 Figure 2 IWSN Road Map
The project will provide significant contribution to water security and Sustainable Development Goals (specially SDG 6 - Ensure availability and sustainable management of water and sanitation for all, SDG 13 – Take urgent actions to combat climate change and its impacts and SDG 17 - Strengthen the means of implementation and revitalize the global partnership for sustainable development)  by multi-stakeholder collaborations to improve water use by private sector sites, improve the collection and sharing of multi-sectoral data, catalyse adoption of good water stewardship.
Sources:
Authors
1. Ashish Bhardwaj, India Coordinator – Alliance for Water Stewardship (AWS)
Ashish is presently working as India Coordinator with Alliance for Water Stewardship with more than 8 years of working experience in Water Stewardship, Climate Change and Sustainability with Govt., Civil Societies, Private Sector and Bilateral and Multilateral organisations.
2. Meghana Kshirsagar, Technical Advisor-Climate Change – GIZ (Deutsche Gesellschaft für Internationale Zusammenarbeit GmbH)
Meghana Kshirsagar is the Technical Advisor- Climate Change at GIZ (Deutsche Gesellschaft für Internationale Zusammenarbeit GmbH) with 18 yrs+ experience of working in the field of Environment, Climate Change and Sustainability aspects with Govt, Non- Govt. & Private sector.