You are here
India Energy for all Summit 2020
Source Url:
http://www.sustainabilityoutlook.in/news/india-energy-all-summit-2020-766512
CLEAN in partnership with NITI Aayog, Government of India and International Solar Alliance (ISA), Summit Partners: AEEE, CEEW, CSIS, Good Energies Foundation, MECS, GIZ, IRADe, GOGLA, NRDC, NTPC, Selco Foundation, SwitchOn Foundation, Shakti Sustainable Energy Foundation, USAID, Villgro, WRI India, SPACE10 and Social Alpha. Communications Partner: Power for All and Media Partner: Electric & Power Review, Sustainability Outlook and Sustainability Next organised the fourth edition of India Energy for All Summit (IEAS) from 4-5 February 2020 at the India Habitat Centre, New Delhi.
India is one of the fastest growing economies in the world. There is a serious need to keep the economic growth aligned with climate change commitments. Responsible production and consumption of clean and affordable energy at source therefore needs to be practiced widely and regularly.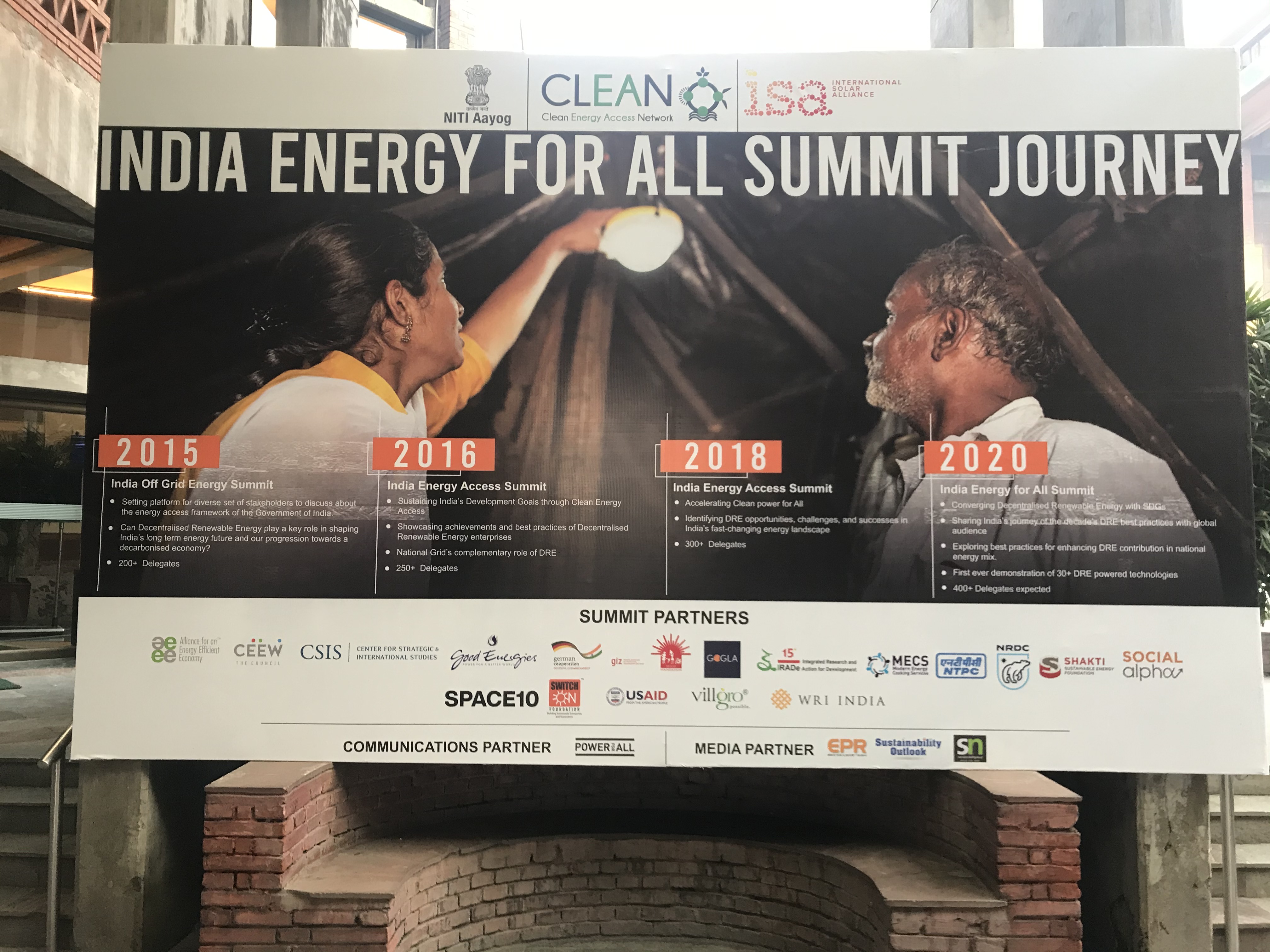 CLEAN over the years has endeavoured to reach the unserved and the under-served sections of the population by working as a credible and trustworthy platform to develop collaborations and partnerships between the Decentralized Renewable Energy (DRE) enterprises and others engaged in energy access in the public and private domains.
IEAS 2020, in its fourth annual flagship edition, focussed on highlighting the significance of distributed clean energy. The previous three editions have been successful in bringing together an average of 600+ national and international delegates including DRE enterprises, policy makers, donors, funders and regulatory experts each time. 
CLEAN, along with its partners, facilitated discussions with key government representatives on nationally important topics such as DRE's role to strengthen Saubhagya scheme, linkages between DRE enterprises and state livelihood missions, financing for DRE powered livelihoods, growing significance of clean cooking solutions and collaborations to strengthen financing for solar pumping under the KUSUM scheme. The event saw unprecedented attendance from public sector institutions such as Ministry of New and Renewable Energies (MNRE), State Chief Secretaries of Energy Department, National Rural Livelihood Mission (NRLM), NTPC, National Disaster Management Authority (NDMA), Bankers Institute of Rural Development (BIRD) and more; as well as private sector institutions including financial institutions, foundations, utility scale energy corporations and more. There was also a workshop focussed on improving the Marketing and Communications skills of DRE enterprises. Two reports highlighting DRE technologies and growing global opportunities were launched in this event. IEAS, for the first time, organised a grand exhibition for two days, where 29 DRE technology providers displayed their solutions.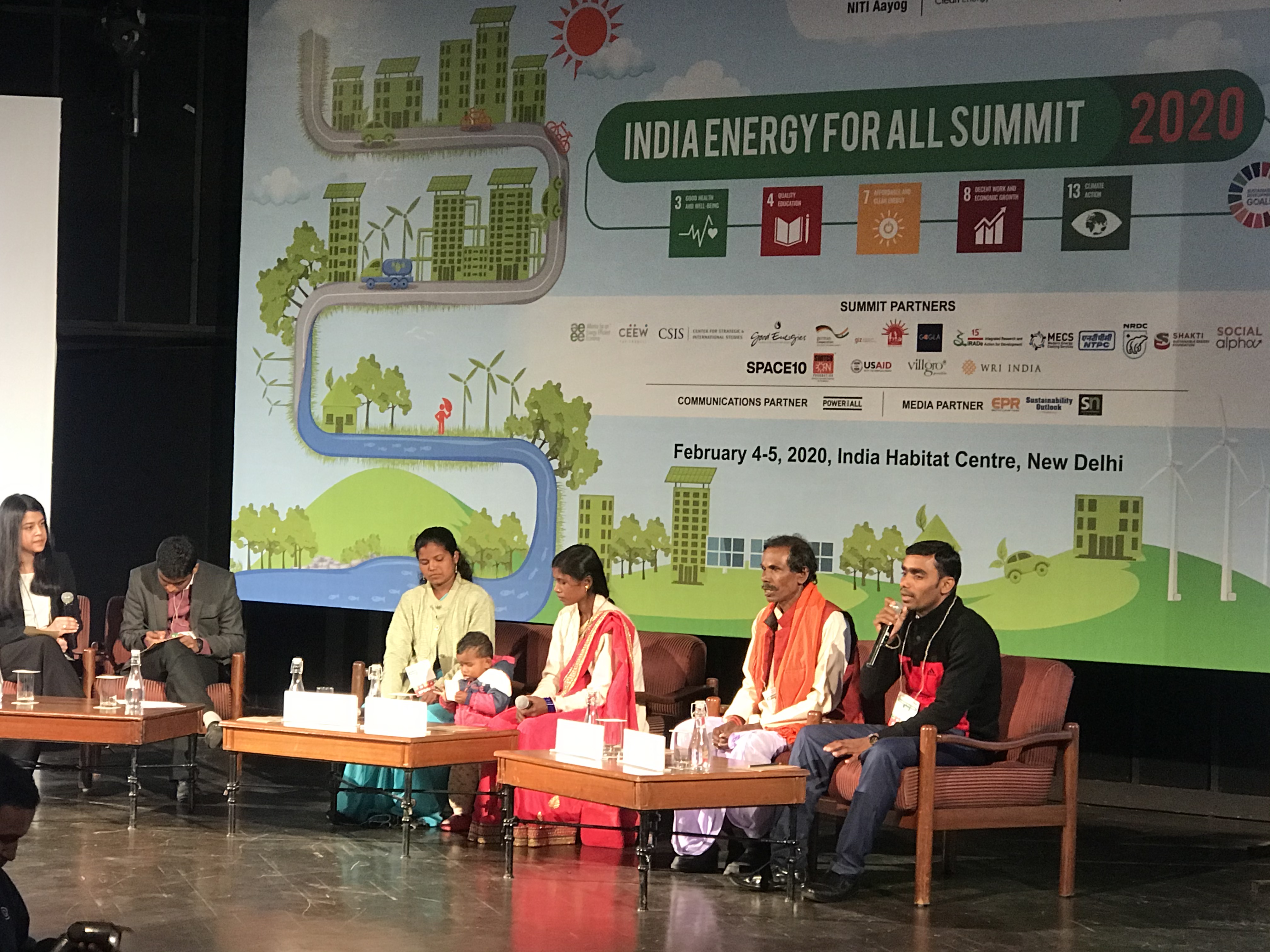 This year, India Energy for All Summit 2020 aimed to accelerate India's clean energy transition by scaling-up use of decentralised renewable energy and supporting the bid to realise its global commitment on Nationally Determined Contributions (NDCs) and the UN Sustainable Development Goals (SDGs). To achieve which, the Summit endeavoured to: 
Contribute to the Government of India's goal of providing reliable and affordable power for all 

Endorse achievement of sustainable development outcomes (like education, livelihoods, healthcare, climate change mitigation etc.) using DRE as a converging point 

Collectively scan business and investment opportunities, and suitable policy and financial environments 
IEAS 2020, turned out to be a unique forum that hosted reflections on energy access, the linkages with SDGs and the impact that DRE can bring to the rural economy of the country. 
IEAS 2020 was another of CLEANs focussed efforts to reiterate to all the stakeholders that clean and affordable energy is a key ingredient to drive growth in harmony with climate.